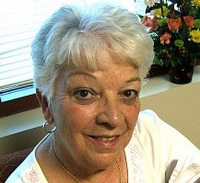 Norma Maeven Weizenauer
Norma Weizenauer died peacefully at home surrounded by her family on August 2, 2017 at the age of 84.
She is preceded in death by her husband Walter A. Weizenauer, her parents Humbert and Bridget Edna (Boyle) Belardi, as well as her sisters Helen Catherina and Diane Cummings.
Norma is survived by her children Walter C. Weizenauer of Salem, Ma, Laura Helenius (Woitto) of Helena, Al and Barbara Piatt of Peachtree City, Ga.; her grandchildren Jennifer, Daniel (Alex), Jessica, Bridget, her great-grandchildren, Lorelei and Rowan; sister-in-Law, Anna Marie Richman(Terry); and her nieces and nephews, Michael Cummings, Megan Cummings, Helen Cummings, Maryellen Catherina, Richard Catherina and Lori Lough
Norma was born on October 31, 1932 in New York City, NY and was raised in the Bronx. After her marriage to Walter, they moved to Rockland County where they raised their three children in Spring Valley, NY. In later years Norma and Walter moved to Campbell Hall, NY where they enjoyed a quiet life in the country. Norma worked for over 20 years for the Plumbers and Steamfitters Union Local 373. Upon the passing of her husband and her retirement, Norma moved to Peachtree City, Ga where she enjoyed a very active social life, her work as a Stephen Minister at Holy Trinity Catholic Church, and volunteering at the non-profit thrift store, Clothes Less Traveled.
A Mass of Christian Burial will be celebrated at St John the Evangelist in Goshen, NY on August 12, 2017 at 10:00 a.m. Internment will follow at Hamptonburgh Cemetery.
In lieu of flowers, donations may be made to a cause that was close to Norma's heart: the St Jude Children's Research Hospital, 501 St Jude Place, Memphis, TN 38105
Arrangements under the care of the Donovan Funeral Home, Inc., Goshen. www.donovanfunerals.com