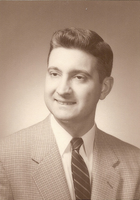 Dominick P. Elia
Dominick Peter Elia
July 1, 1928 – August 15, 2017
Dominick was born and raised in Middletown, NY. He was 89 years old. His parents were Dominick Elia and Concetta Gesualdo.
Dominick was retired from Goshen Central School in 1990 where he was Chairman of the Business Education Department. He taught business for 32 years. He was a graduate of Middletown High School. He had an Associate of Science Degree from Orange County Community College, a Masters of Business Education, and an Administrator's Certificate from the State University at Albany. Dominick belonged to several teachers' organizations including The Goshen Teachers Association, The New York State Retired Teachers Association and The New York State United Teachers.
Dominick and his wife, Helen, taught social ballroom dancing in the Continuing Education Department at Orange County Community College for thirty years. The students called him "dancing man". He was a member and first president of the OCCC Alumni Association.
Dominick was a founding member of the OCCC learning in retirement organization, Encore. He served for many years on the Encore Steering Committee. Dominick was a veteran of the U.S. Army during the Korean War. He was very proud to have served in the military. He was a recipient of a national defense service medal.
Dominick was the ultimate gentleman who was extremely kind and considerate. He had a fine sense of humor and a gentleness that served him well in all situations.
Dominick is survived by his wife of 65 years, Helen, and his nieces Michelle Hagerty, Donna Elia and Annette Carpenter; great nieces and a great nephew.
He was pre-deceased by his parents, his brothers Anthony Elia and Russell Elia, and nephew, Dominick (Donny) Elia.
The family wishes to thank the staff for Dominick's excellent care during his brief rehabilitation stay at Elant.
At his request, there will be no visitation and funeral arrangements will be private.
Burial will be in the Orange County Veterans Memorial Cemetery in Goshen.
In lieu of flowers, contributions may be made in Dominick's name to a charity of one's choice.
"To live in hearts we leave behind, is not to die."
Funeral Arrangements are under the direction of the Donovan Funeral Home, Goshen NY. To leave a personal condolence, please visit our website at www.donovanfunerals.com.