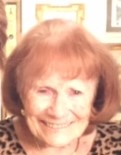 Mary C. O'Keefe
Mary Catherine O'Keefe, 93, of Goshen, passed away on Tuesday, September 5, 2017 at Glen Arden Health Care Center, Goshen, NY.
Mary, formerly of New City, New York and the Inwood section of Manhattan, was born May 20, 1924 in New Haven, CT, the daughter of Stephen H. Monahan and Helen (Costello) Monahan. Mary retired as a teacher from North Rockland School District, Haverstraw, NY and the Huntington Learning Center, Nanuet, New York.
She is survived by her husband: George E. O'Keefe of Goshen; 4 children, Thomas O'Keefe and wife Eileen of Newton, MA, Eileen O'Keefe and husband Richard Martin of Needham, MA, Karen Maridou of Suffern, NY and George E. O'Keefe, Jr. and wife Betty of Tuscan, AZ; 13 grandchildren, Aislinn, Brendan, Helen, Lauren, Katherine, Rebecca, Trevor, Bryan, Christopher, Tomai, Peter, Cathy and George III; 3 great grandchildren, Clara, Natalie and Brady. Mary was predeceased by her parents and sister, Sr. Mary Stephen, O.P.
Visitation will be Thursday, September 7 from 7-9 P.M. at the Donovan Funeral Home, Inc., 82 South Church Street, Goshen, NY.
A Mass of Christian burial will be held 10:30 am on Friday, September 8, 2017 at St. John the Evangelist R.C. Church, 71 Murray Ave, Goshen, NY.
Burial in Gate of Heaven Cemetery, Valhalla, NY.
Arrangements by Donovan Funeral Home, Inc., Goshen. To leave a condolence visit www.donovanfunerals.com