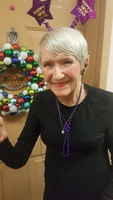 Caryl E. Swald
Caryl Peterson Swald
Caryl Peterson Swald passed away in her home, surrounded by her family on February 18, 2018. She lived a wonderful life for 94 years.
Caryl was born on March 25, 1923 in Jamestown, NY to Arvid and Mildred Peterson. She had one brother Roger Peterson. She was married to Kenneth Peterson and was blessed with two children, Maureen Sue Peterson Johnson and Thomas Craig Peterson. She had a second marriage to Alfred Swald.
Mrs. Peterson Swald is survived by her daughter Maureen Peterson Johnson of Goshen, NY; her grandson Dr. Jeffrey Johnson and his wife Yumin Wang of Bridgeport CT; her granddaughter Kristin Woodlock and her husband David Woodlock. She was blessed with great grandchildren including Alex Riley and Boone the black lab of Bridgeport CT; Nicholas Riley and his wife Jennifer Riley of Albany, NY; step great grand children David Woodlock of Aurora, CO; Kate Woodlock of Saugerties, NY; Maggie Woodlock of Newburgh, NY and Emma Perkins of Highland Mills, NY. Grandchildren from Thom Peterson are Julie Peterson Klein and her husband Travis; great grandchildren Taylor Klein and Josh Klein. Jody Peterson Schang and her husband Dennis; great grandchildren Max Schang and Megan Schang. She is survived by her step- children Sue Burtch, James Swald, Carol Carter and Donna Swald. Caryl had one niece, Nancy Seeley of Jamestown, NY.
Over the past three years Caryl was loving and faithfully cared for by Nadine Clarke. Nadine was an angel sent to Caryl and the family. She showered Caryl with her profound love of God and Jamaican family traditions.
Caryl learned to drive in a Model T and owned a toy store in Warren PA. She was a licensed beautician and worked as a bookkeeper in Utica NY. Caryl and Al Swald moved to the Villages in Lady Lake, FL in the late 1970's. Caryl returned to New York and moved to Monroe, NY in 2014. She was a member of the First Presbyterian Church in Goshen.
Services will be held at the First Presbyterian Church at 33 Park Place in Goshen, New York on Saturday February 24, 2018 at noon.
In lieu of flowers please contribute to the SPCA as a tribute to Caryl's love for puppies and kittens.