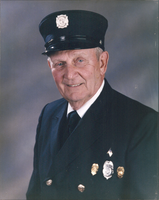 Archie J. Carroll
Archie J. Carroll, 92, of Goshen, entered into rest peacefully of natural causes Friday, February 23, 2018 in Del Ray Beach, FL.
Archie was a lifetime resident of Goshen, born June 29, 1925, the son of Lester T. Carroll and Vera Slaughter Carroll.
Archie left high school in his Junior year of 1942 to join the US Navy with his best friend Richard Space proudly serving his country during WWII. This was a practice of many young men from the Greatest Generation. He was a survivor of the invasion and epic Battle of Iwo Jima. After the war, years later he graduated from Goshen Central High School. He was a life member of the American Legion Post 377, VFW 1708 and DAV 212. He retired from Ford Motor Co. in 1979 and was employed by Alders Wholesale Florist for 35 years. He was an active member of the Dikeman Engine and Hose Company #3 in Goshen for 56 years. A charter member of the Al Turi Memorial Golf League as well as a member of Tuesday night Golf league at the Winding Hills Golf course. Everyone who played golf with him or against him loved the experience; because they knew they were in for something they would never forget, that made going to the 19th hole worth it.
Archie loved playing golf, spending time with his family and friends, spending the winter months in Florida. He also liked watching his favorite sports teams; The Mets, Jets, Army Football, and the U Conn Lady Basketball team. The Dikeman fire company was a big part of his life and he loved selling his $100 tickets. He was loved and adored by all because of his fun loving attitude. He just kept it simple and never crossed anyone. Many have said he is absolutely the best there is and a true Goshen legend.
He is survived by three sons, Daniel Carroll, Michael Carroll and Wayne Carroll and his wife, Nancy Spindler Carroll, step-son, Thomas J. Lane and his wife Nancy Ward Lane, grandson, Trevor Carroll and four step-grandchildren, Tim Spindler and his wife Ivana, Thomas Lane, Jr., Christine Thonus and her fiancé Steve, Stacie Hildago and her husband Fernando, 11 great grandchildren and two great great grandchildren.
Archie was predeceased by his parents, wives, Rose M. Vasti Carroll and Marjorie Vavricka Carroll; son, Robert P. Carroll; sister, Joan Drew and brother, Lester Carroll.
Visitation will be on Wednesday, February 28, from 4-8 pm at the Donovan Funeral Home, Inc., 82 South Church St., Goshen.
The Funeral Service will be on Thursday, March 1, 2018 at 10:00 am in the funeral home with the Reverend David Kingsley officiating.
Burial will follow in Orange County Veteran's Cemetery, Goshen.
In lieu of flowers, memorial donations may be made in Archie's name to US Disabled American Veterans Chapter 212, 10 Dikeman Drive, Goshen, NY 10924 or the Dikeman Engine and Hose Company 10 Dikeman Drive, Goshen, NY 10924.
Arrangements under the care of the Donovan Funeral Home, Inc., Goshen. To leave a condolence visit www.donovanfunerals.com