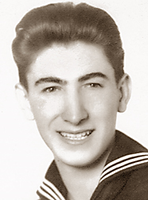 Chester F. LeBaron
Chester F. LeBaron, 92, of Goshen, passed away Wednesday, Feb. 22nd, 2018, at Orange Regional Medical Center, Middletown.
Chester was born in Fairlawn, NJ, Aug. 14th, 1925, to the late Chester and Theresa (Delucia) LeBaron.
A veteran of World War II, he served in the Pacific Theater under Admiral Nimitz aboard the Destroyer/ Minelayer USS Lindsey (DM-32), during the battles of Iwo-Jima and Okinawa, for which he received two Battle Stars.
On April 12th, 1945 during the Battle of Okinawa, his ship was hit by two suicide planes. The brave sailors managed to not only keep her afloat despite losing 80 feet of the bow, but after makeshift repairs completed the over 1000 mile journey back to Guam in reverse.
In 1948 he started LeBaron Gear Co. in his garage in Waldwick NJ. Several years and patents later in 1975, he moved his family and business to Goshen, buying the Newbury Pipe Fitting Co's foundry on Spring St. He transitioned his business into real estate with the 1982 purchase of The Goshen Inn.
He is survived by his sons, Chet B., Lloyd, and Brian, and his grandson Logan.
Visitation will be Friday, March 2 from 4-7 pm at the Donovan Funeral Home, Inc, 82 South Church Street, Goshen, NY.
A Mass of Christian burial will be held 10:00 am on Saturday, March 3, 2018 at St. John the Evangelist R.C. Church, 71 Murray Ave, Goshen, NY.
Burial will follow in Orange County Veteran's Cemetery, Goshen, NY.
In Lieu of flower, a donation in Chester's name may be made to the veterans organizations Hudson Valley Honor Flight (hvhonorflight.com/donate) or Disabled American Veterans (29 Gregory Drive, Goshen NY 10924.)
Arrangements by the Donovan Funeral Home, Inc., Goshen. To leave a condolence visit www.donovanfunerals.com