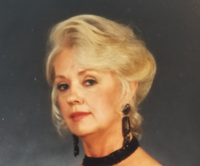 Dianna S. Eden
Dianna S. Eden, 71, of Goshen, entered into rest on Wednesday, April 4, 2018 at Orange Regional Medical Center, Middletown, NY.
Dianna was born December 24, 1946 in Goshen, NY, the daughter of Thomas and Dorothy (Ulrich) Babcock.
She is survived by her mother Dorothy Babcock, 94 of Goshen NY; stepmother Jean Babcock of Houston TX, Aunt Maxine of Scotchtown NY, brother Thomas Babcock and wife Janet of Hialeah, FL, sister Nettie and husband Gary Moore of Houston TX; brother Ricky Babcock and wife Tracy of St. Petersburg, FL, brother Gary Babcock of St. Petersburg, FL, sister Valerie and husband Walter Schilling of Wurtsboro, NY, brother Tommy Babcock and wife Jackie of Wurtsboro, NY, three children; Shelley Memmelaar of Campbell Hall, NY, James Eden of Goshen, NY and Christian Eden and wife Amy of Goshen, NY; five adored grandchildren, Katelynn and Alysha Memmelaar, and Bianca, Kane, and Fiona Eden.
She is predeceased by her father, Thomas Babcock, sister, Debbie Garetto, and son-in-law Chuck Memmelaar.
Diana was raised by her mother in Omaha, NE. She graduated from Notre Dame, an all girls Catholic School, in Omaha. She told many funny stories about times with her girlfriends and the nuns. At the age of ten she began coming to New York to visit her father during summer breaks. At the age of 19 she married James Eden and they moved to Goshen, NY where they started their own family and had three children. Dianna graduated from Middletown School of Beauty and worked for many years as a hairdresser at JC Penney. Later in life she began working at Litson Healthcare as a case manager leading her to become a private caregiver. Dianna also enjoyed modeling for her close friend Margo George.
Everyone who knew Dianna knew she had a love for cats, she always had a few of her own and a few strays. Dianna always wore a smile and held her head high. She had a heart of gold and would never speak poorly of anyone. Dianna's greatest joy in life was spending time with her family.
"See you on the other side," forever your child, Shelley.
"Until we meet again Mom," Jamie Jame
"You would always call me the love of your life and I would call you mine. Thank you Mom," Christain.
Memorial Visitation will be Tuesday, April 10 from 7 to 9 PM at Donovan Funeral Home, Inc, 82 South Church Street, Goshen, NY, with a Service at 8 PM in the funeral home.
Arrangements under the care of the Donovan Funeral Home, Inc., Goshen. To leave a condolence visit www.donovanfunerals.com