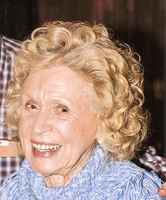 Edith R. Palmer
Edith Prosser Palmer left this world peacefully at home under the care of family at the age of 92 . Born September 18, 1925 in Goshen, NY. A life-time resident of Chester, NY, and a faithful member of Saint Columba Catholic Church for 67 years. A member of The Daughters of The American Revolution. The loving wife of the late Andrew L. Palmer, founder of L.P. Transportation, Inc. and the daughter of the late Katheryn Ball and Arthur Prosser. Mrs. Palmer graduated from Chester High School and Adelphi University. Practiced as a registered nurse at New York Presbyterian Hospital. Her siblings are Ann Prosser, Robert Prosser and the late Richard and Arthur Prosser. Mrs. Palmer is the mother of eight children: Mary Talmadge with husband Theodore, Andrew L. Palmer Jr., John A. Palmer with wife Lori, Richard Palmer, Carolyn D. Palmer, Christopher Palmer with wife Nancy, Susan Palmer , and the late Joanne Lynn Palmer. Survived by her loving Grandchildren: Jessica Talmadge, Lindsay, Andrea, Kathryn, Daniel, and Nicole Palmer. In addition, Edith leaves three great grandchildren: Kendra, Ava, and Dillon Jones. Also, cousins, nieces and nephews, in which all were loved so dearly. Mrs. Palmer was known for her generous and humble heart and as Edith would say, "don't say goodbye, say see you later."
There will be no visitation. A Mass of Christian Burial will be celebrated Tuesday, April 10th at 11:00am at St. Columba R.C. Church, Chester, NY. Burial to be Private at the discretion of the Family.
In lieu of flowers, donations may be made in Edith's name to St. Columba R.C. Church, Little Sisters of The Poor, and The American Cancer Society.
Arrangements under the care of the Donovan Funeral Home, Inc., Goshen. To leave a condolence visit www.donovanfunerals.com