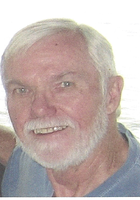 John Lee Torres
John Lee Torres, 75, of Goshen, died Tuesday, April 10, 2018, at Orange Regional Medical Center, Middletown, NY.
John was born April 14, 1942, in Albuquerque, NM, the son of Leo and Katherine (Smith) Torres. He retired from IBM and Dun & Bradstreet. He was president of Surreywood Farms and Chairman of the Board of Marshall Machinery.
The family remembers him this way: "He was a rancher who couldn't wait to get away from agriculture and married a woman who wanted a horse farm, which he gave her. He was a man who always had time for a good dog. He was an engineer who loved to solve problems, mechanical, financial or philosophical. He was an athlete who never quit regardless of injury or weather. He was an attorney who honored the law with integrity. He was a father who introduced his children to a wide variety of options and was proud of their choices. He was a manager, president, and CEO of businesses ranging from computers to consulting to tractors."
He is survived by his wife: Rebecca Torres; son, Rev. John Lee Torres, Jr. and wife Shannon and their daughters, Kelsie and Kendall; daughter, Kathleen Tison and husband Rob.
Visitation will be Thursday, April 12, from 7 to 9 PM and Friday, April 13, from 1:30 to 3:30 PM at Goodwill Church, 2135 State Route 208, Montgomery, NY. The funeral service will be held 4 PM on Friday, April 13, 2018, at Goodwill Church, Montgomery, NY. Interment will be private.
In lieu of flowers, memorial donations may be made to St. Jude Children's Research Hospital, 501 St. Jude Place, Memphis, TN 38105-1905.
Arrangements under the care of the Donovan Funeral Home, Inc., Goshen. NY. To leave a condolence visit www.donovanfunerals.com