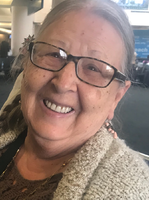 Santa Fini
Santa Fini, 76, of Middletown, died Thursday, April 12, 2018 at home.
Santa was born April 3, 1942 in Monte San Giovanni Campano, Italy, the daughter of Francesco and Caterina (Sciatapiccia) Biordi.
She is survived by her husband of 56 years, Frank Fini at home; daughter, Rosanna Fini of Middletown; sons, Daniel Fini and wife Cathleen of Chester, Joseph Fini and wife Teresa of Goshen and Frank Fini, Jr. of Middletown; five grandchildren, Frank S. Fini and wife Amanda, Samantha, Alexandra, Joseph Jr. and Felicia; and many nieces and nephews. She was predeceased by her parents, brothers, Armando and Rosario Biordi and sister, Edith Biordi.
Visitation will be Friday, April 13 from 5 to 9 PM at the Donovan Funeral Home, Inc, 82 South Church Street, Goshen, NY.
A Funeral Mass will be held 9:30 am on Saturday, April 14, 2018 at St. Columba R. C. Church, 27 High St, Chester, NY with John Bonici officiating. Entombment will follow in Cedar Hill Cemetery, Newburgh, NY.
Arrangements under the care of the Donovan Funeral Home, Inc., Goshen. To leave a condolence visit www.donovanfunerals.com