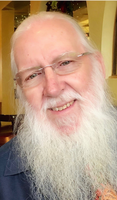 William Bull-Brown
William Bull-Brown, 80, of Middletown, NY, died Wednesday, January 30, 2019 at home.
Bill was born May 22, 1938 in Goshen, NY, the son of the late Louis Brown and the late Corinne Bull Brown. He served in the U.S. Navy and retired after 40 years from Nepera Chemical, in Harriman NY as a Senior Research and Development Professional.
Bill is survived by his wife of 52 years, Beatrice Bull-Brown; two daughters, Corinna Rose Bull-Mulet and husband Luis and Juliana Bodensieck and husband Eric; 3 grandchildren, William, Xavier and Lillian Rose Bodensieck; two brothers, Michael Brown and Louis Brown and his sister, Mary Ann Cohen. He was predeceased by his parents and his brother Bartow Brown.
A Private Burial will be in Holy Spirit Ukrainian Catholic Cemetery, Campbell Hall, NY on Monday, February 4.