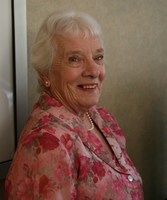 Theresa Walsh
Theresa Walsh, of Goshen, entered into eternal rest on Saturday, April 20, 2019 at Orange Regional Medical Center, Middletown, NY.
Theresa lived in Queens, NY before relocating to Goshen. She was the daughter of John and Theresa Schaefer.
She is survived by her children, Anne Munnelly and husband John, Mary Doran and husband Peter, Tim Walsh and partner Cathie Hernandez, Cecilia Klein and husband James and Regina Eisenbacher and husband Scott;
11 grandchildren; 9 great grandchildren along with many nieces and nephews.
Theresa was predeceased by her husband Francis, son, Gerard Walsh, sister, Bernadette Weinheimer and her brother, John Schaefer.
Theresa was devout Catholic and devoted to her family and volunteered her time with many service organizations.
Visitation will be Thursday, April 25 from 5 to 8 pm at the Donovan Funeral Home, Inc, 82 South Church Street, Goshen, NY.
A Mass of Christian burial will be held 10:00 am on Friday, April 26, 2019 at St. John the Evangelist R.C. Church, 71 Murray Ave, Goshen, NY.
Burial will be in St. John's Cemetery Middle Village, Queens, NY.
In lieu of flowers, memorial donations may be made to Jerry Walsh Memorial Trust Fund, Cortland Youth Bureau, 35 Port Watson Street, Cortland, NY 13045.
Arrangements under the care of the Donovan Funeral Home, Inc., Goshen. To leave a condolence visit www.donovanfunerals.com