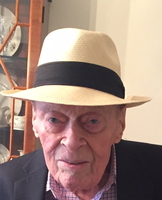 George O'Keefe
George Edward O'Keefe, 92, of Goshen, passed away on Friday, June 15th, 2019 at Glen Arden Health Care Center, Goshen, NY after a short illness.
George, formerly of New City, New York and the Kingsbridge section of the Bronx, was born Feb 26,1927 in Manhattan, the son of Edward O'Keefe and Julia (Gebauer) O'Keefe. A World War II Navy veteran and a graduate of Manhattan College (Engineering) and Columbia University (MPH) George retired as a certified professional engineer and Assistant Commissioner of the Rockland County Health Department.
He is survived by 4 children, Thomas O'Keefe and wife Eileen of Newton, MA, Eileen O'Keefe and husband Richard Martin of Needham, MA, Karen Maridou of Suffern, NY and George E. O'Keefe, Jr. and wife Betty of Tucson, AZ; 15 grandchildren, Aislinn, Brendan, Helen, Lauren, Katherine, Rebecca, Trevor, Bryan, Christopher, Tomai, Peter, Kathy, George III, Rodger, and Brandy; and 4 great grandchildren, Clara, Natalie, Brady, and Kayden. George was predeceased by his wife, Mary, his brother Francis (a war casualty),and his parents.
Visitation will be Thursday, June 20 from 7-9 P.M. at the Donovan Funeral Home, Inc., 82 South Church Street, Goshen, NY.
A Mass of Christian burial will be held 10:00 am on Friday, June 21, 2019 at St. Joseph's R.C. Church, 14 Glenmere Ave, Florida, NY.
Burial in Gate of Heaven Cemetery, Valhalla, NY.
Arrangements by Donovan Funeral Home, Inc., Goshen. To leave a condolence visit www.donovanfunerals.com