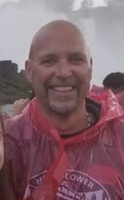 David R. Silvernail
David R. Silvernail, 52, of Goshen, passed away Friday, October 18, 2019 at Columbia Presbyterian Hospital, New York, NY.
David was born April 27, 1967 in Middletown, NY, the son of Irving Richard Silvernail and Carol (VanLeuven) Silvernail.
He was a self employed Landscaper and owner of Double D Lawn Service, Poughkeepsie, NY. Dave enjoyed being with his family and friends, riding his motorcycle, playing his guitar and listening to music. He designed and was building his own motorcycle; he would go yearly with his friends to the Daytona rally.
He is survived by his parents Irving "Dick" and Carol Silvernail at home; daughters, Kaitlyn and Carly Silvernail both of Wallkill; sister, Brenda Silvernail of Monticello and many Aunts, Uncles, Nieces, Nephews, Cousins and Friends. He was predeceased by his sister, Lisa Silvernail.
Visitation will be Tuesday, October 22 from 4 to 7 PM at the Donovan Funeral Home, Inc, 82 South Church Street, Goshen, NY.
A Mass of Christian burial will be held 10:00 am on Wednesday, October 23, 2019 at St. John the Evangelist RC Church, 71 Murray Ave, Goshen, NY.
Burial will follow in St. John's Cemetery, Goshen.
Arrangements under the care of the Donovan Funeral Home, Inc., Goshen. To leave a condolence visit www.donovanfunerals.com