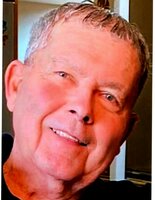 Frank J. Foremny
Frank J. Foremny Sr., of Goshen, NY entered into rest on Sunday, May 14, 2023 at Middletown Park Manor, Middletown, NY.
Frank was born on October 25, 1943 in Goshen, NY, the son of Joseph and Pauline Foremny. He owned and operated F.F. Contracting New York, Inc., Goshen, NY.
Frank was fun and full of life. And through his life, he wore many "hats"….. Farmer Frank, Dad, Uncle Frank, Fireworks Frank, Frankie5K, and his most treasured, Pepa!
Frank is survived by his son, Frank Foremny Jr. and his favorite daughter-in-law, Patty; and his cherished grandchildren, Colin and Taylor Foremny.
Visitation will be on Friday, May 19, 2023 from 4-7 pm at the Donovan Funeral Home, Inc., 82 South Church Street, Goshen, NY, with the Service beginning at 7 pm.
Burial will be private with the family.
Frank was an animal lover. In lieu of flowers, please make a donation to the Goshen Humane Society or your local humane society.
Arrangements under the care of the Donovan Funeral Home, Inc., Goshen.