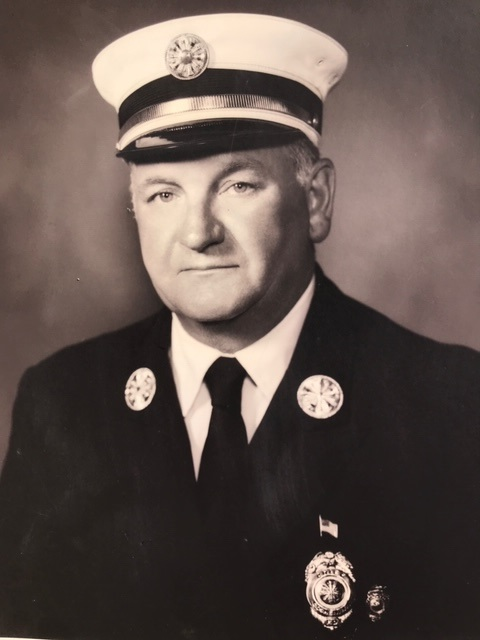 Robert V. Jones
1932 - 2019
Recommend Robert's obituary to your friends
Obituary of Robert V. Jones
Robert V. Jones, 87, of Goshen, passed away Thursday, June 6, 2019 at home in Goshen.
Bob was born March 10, 1932 in Southfields, NY, the son of Frederick and Isabelle (McGrady) Jones. He was one of sixteen children.
He served in the US Army during the Korean War from 1952 to 1954. He was then employed by the NY State Thruway Authority in Harriman, NY, and retired as a Supervisor after 32 years. Once retired, he was associated with Donovan Funeral Home in Goshen for over 30 years. Bob loved living in Goshen, and proudly served as an elected Village of Goshen Trustee for 22 years.
Shortly after moving to Goshen, he became an active member of the Dikeman E&H Fire Company on June 3, 1959 and just received a commendation for his sixty years of volunteer service. He rose through the firematic ranks to ultimately become Chief of the Goshen Fire District. He was also Past President of and remained an active lifetime member of the Fire Chiefs' Association of Orange County, NY.
Bob was passionate in his involvement with and support of veterans' causes and organizations including Disabled American Veterans, Korean War Veterans Association, Catholic War Veterans, The Coalition, and The American Legion.
Bob is survived by his wife, Mary Ann (Alex) Jones, at home; children, Barbara Lokar and husband Stoyan of Mount Holly Springs, PA, Carol Jones of Goshen, Robert Jones and wife, Corina, of New Hampton, Tom Jones and wife, Mel, of Campbell Hall, and John Jones and wife, Wendy, of Wallkill; sister, Edith Stevens of Southfields; grandchildren, Nina and Anthony Lokar, Michael Conklin and wife, Katie, Glenn and Danielle Jones, Alexa Rudy, Trevor and Callie Jones, and great grandson, Gunner Conklin; many nieces and nephews, as well as his many longtime friends both near and far. Bob frequented many local businesses, preferring to start each day sharing stories with his pals at Elsie's in Goshen. He loved a good joke, was famous for re-telling stories, and truly enjoyed sharing celebrations with his family and friends.
Visitation will be Sunday, June 9 from 2-6 pm and Monday, June 10 from 5-8 pm at Donovan Funeral Home, 82 South Church Street, Goshen, NY. The Dikeman E&H Fire Company will hold a firematic service at 7 PM on Monday, June 10th at the funeral home.
A Mass of Christian burial will be held at 10:00 am on Tuesday, June 11, 2019 at St. John the Evangelist R.C. Church, 71 Murray Ave, Goshen, NY.
Burial will follow in Orange County Veterans Memorial Cemetery in Goshen.
In lieu of flowers, the family requests memorial contributions be sent to Disabled American Veterans, Orange County (NY) Veterans Memorial Cemetery, St. Jude Children's Research Hospital or a charity of one's choice.
Arrangements are under the care of Donovan Funeral Home, Inc., Goshen. To leave a condolence, please visit www.donovanfunerals.com.
Share Your Memory of
Robert