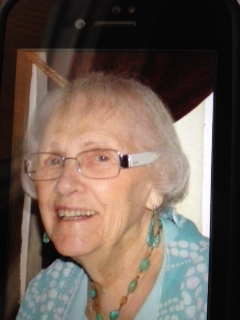 In Memory of
Agnes G. Akers
1923 - 2017
Obituary of Agnes Akers
Agnes Akers passed away suddenly after a short illness on Sunday, October 22, 2017 at Orange Regional Medical Center.
She was an only child born to Floyd and Grace Palmer on August 2, 1923 and grew up in the Little Falls, NY area, and later in South Glens Falls, NY. After graduating from high school and business school, she married Edward Cole in August 1945. They moved to Orange County in 1947, and he predeceased her in 1964. She married Leslie Akers in 1965, and they lived in Blooming Grove and subsequently in Goshen at Glen Arden until he predeceased her in 2000.
Agnes is survived by five children and stepchildren and their spouses: Connie Cole Antona (Peter) of Goshen, NY, Roderick Cole (Laurel) of Lovell, ME, Eugene Akers (Linda) of Rochester, NY, Christopher Akers (Cathy) of Rock Hill, NY, Carolyn Akers Carter (Bob) of Granby, CT, and son-in-law Peter Gowdey (Wendy) of Washington, D.C. She was predeceased by her stepdaughter Annabelle Akers Gowdey. Agnes is also survived by her grandchildren, Meghan Antona Goldsmith, Courtney Antona, Robin Gowdey Benton, David Gowdey, Patricia Akers Lane, Karen Akers, Kevin Andre Musetti, and 7 great grandchildren.
Agnes was an active and vibrant woman throughout her life. As a teenager she played basketball, played the coronet in the band and played the echo in taps at funeral services, once jumped in a river to save a drowning friend and was always adventuresome. As an adult, her family business, Coles of Washingtonville, was her passion. Although she officially retired years ago, the only thing that changed was that she stopped getting paid. She went to work, did the books and took paperwork home until her failing eyesight made bookwork impossible just 2 years ago at age 92. She loved to travel and loved to eat out…oysters on the half shell were a special treat. Living at Glen Arden from the time it opened, she made many good friends, and was part of a weekly cocktail group that met for a martini before dinner. She was well informed politically, and could also tell you what was happening on the professional golf tour.
Agnes was a devoted mother and grandmother, and will be greatly missed by her family. We weren't ready to see her go, but are glad she had her independence and was able to enjoy life until the end.
Visitation will be Wednesday, October 25 from 2-4 & 6-8 PM at the Donovan Funeral Home, Inc, 82 South Church Street, Goshen, NY.
The funeral will be held 12:00 pm on Thursday, October 26, 2017 at the Funeral Home, with the Reverend David Kingsley officiating.
Burial will follow in Washingtonville Cemetery, Washingtonville, NY.
Arrangements under the care of the Donovan Funeral Home, Inc., Goshen. To leave a condolence visit www.donovanfunerals.com
Share Your Memory of
Agnes