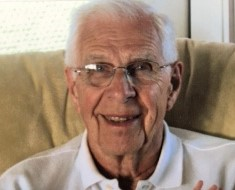 In Memory of
Ralph W. Decker
1927 - 2018
Obituary of Ralph Decker
Ralph W. Decker, 90, a lifelong resident of Orange County, entered into rest Tuesday, March 13, 2018.
Ralph was born October 14, 1927 in Thompson Ridge, NY, the son of Alvin and Elizabeth (Doyle) Decker. Following the death of his mother, Ralph was fortunate to be raised from a very young age by his caring Aunt Margaret (Maggie).
Ralph practiced dentistry in Middletown for 33 years—Dr. Ralph W. Decker, DDS. He was on the Board of Directors of Middletown YMCA, Foundation Board and Board of Directors of Horton Hospital, Board of Middletown Savings Bank and active with Orange County Land Trust. He received a BS from Springfield College and earned his MS and Doctorate of Dental Surgery from University of Illinois.
Ralph loved all sports, especially tennis and skiing, and the NY Yankees. Along with his wife, he enjoyed playing bridge with many of their friends. He was very proud of and was able to live out his years at High Withers, the small horse farm he built and maintained. He always retained his great sense of humor and willingness to help.
He is survived by his wife, Midge Decker at home; children, Nancy Decker and husband Ken Marcellus of Brewster, Margo Tagarello and husband Michael of Goshen, Lynn Decker-Losgar and husband Jerry of Goshen and Chris Decker and wife Kate Fakler of Goshen; grandchildren, Ashley Grebeldinger and husband AJ, Brittany Decker, Joshua Decker, Janessa Decker, Andrew Losgar, and Clarissa Losgar. He was predeceased by his parents Alvin and Elizabeth, his Aunt Margaret Doyle, and brothers, Jim and Leo Decker.
Visitation will be Monday, March 19, 2018 from 6 pm to 8 pm at the Donovan Funeral Home, Inc, 82 South Church Street, Goshen, NY.
The funeral will be held 11:00 am on Tuesday, March 20, 2018 at the Donovan Funeral Home, Inc, 82 South Church Street, Goshen, NY. In lieu of flowers, please send donations to the Middletown YMCA.
Burial will be private and at the convenience of the family.
Arrangements under the care of Donovan Funeral Home, Inc., Goshen. To leave a condolence, visit www.donovanfunerals.com.