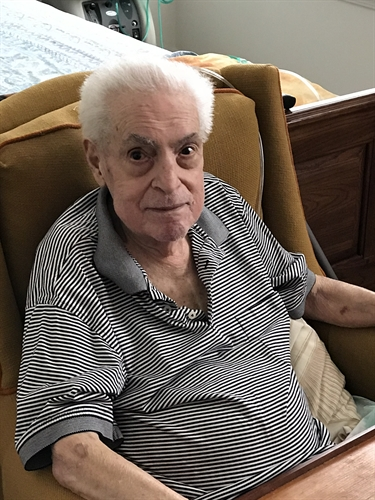 In Memory of
Silvio Bartolomei
1922 - 2018
Obituary of Silvio Bartolomei
Silvio Bartolomei
May 12, 1922 - May 5, 2018
Silvio Bartolomei, beloved brother of Filomena Donati and the late Aldo Bartolomei, passed away at his home in Middletown on Saturday, May 5th.
Sil was born at home in the Bronx on May 12, 1922. He was the first child of Elidamo Bartolomei and Assunta (Andreucetti) Bartolomei, immigrants from Tuscany, Italy. Sil was academically gifted and, after graduating from high school, was admitted to The City College of New York and then to Columbia University, where he earned a Masters in Spanish Literature.
A man of culture and learning, Sil taught 4 languages - Spanish, French, Italian & Latin - at Lindenhurst HS on Long Island where he was employed for more than 30 years.
While Sil never married he was close to his 8 nieces and nephews, all of whom loved him dearly and benefitted from his caring, generous nature. They are Terrence Donati and his wife, Silvana, Penny Colvin and her husband Kevin, Karen Recine and her husband, George, Marisa Bartolomei and her husband, Dalton Paxman, Jeffrey Donati and his wife Lauren, David Bartolomei and his wife, Kristine, Stephen Donati and his wife Nicoletta, and Gregory Bartolomei and his wife Sonja. He is also survived by his sister-in-law Jean Bartolomei and 15 grand nieces and nephews.
Sil traveled extensively throughout his adult life, even living for a period in Brazil- where he learned to speak Portuguese. Attending the Opera gave him great pleasure and, at the end of his life listening to it brought him comfort.
The family would like to thank Lauren Donati, the Orange County hospice nurses and the aides of Valerian Care Company who cared for him well and comforted him at the end.
Friends are invited to attend a Mass of Christian Burial at St. Raymond's Church in the Bronx on Tuesday, May 15th at 10:45am. Burial will immediately follow at St. Raymond's Cemetery.