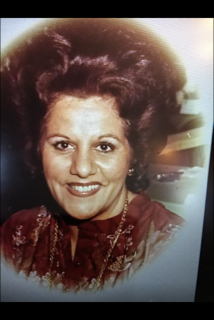 Share Your Memory of
Domenica
Obituary of Domenica Rose Pistone
Domenica Rose Pistone "Mae"
December 15, 1934-December 5, 2018
Domenica Rose Pistone entered into eternal rest peacefully at home with her whole family at her bedside. She was 84.
Domenica was born in Manhattan on December 15, 1934 to Joseph and Madalena LoPinto. She moved from Spring Street in Manhattan to Goshen, NY in 1954.
She is predeceased by her parents, Joseph and Madalena LoPinto, her Husband Dominick O. Pistone and her Sister, Anna (Anita) Pessolano. She is survived by her children, Joseph Pistone, wife Bonnie, Salvatore Pistone, wife Darlene, Carmella Pistone Halpern, husband, Paul; grandchildren, Jonathan, Dominick, Caralaina, Domenica, Nicholas and great grandchildren, Kelly, Anthony, Leonard, Alexandria, Olivia and Timothy and many Loving nieces and nephews, Croce Agahi, husband Farzin, Perry Pistone, wife Dawn, Anthony Migliara in Heaven, Cathy Dordas,husband Richard in Heaven, Joseph Pessolano, wife Diane, Teresa Muldowney, husband Kenneth, Joseph Terrazzino, wife Tamara, Carmella Behnam, husband Khash and many great nieces and nephews.
Domenica attended Cathedral High School in Manhattan and Marist College. She was the President of the Orange County Homemakers Association, a Parishioner of St. John the Evangelist RC Church in Goshen, Head of St. John's School lunch program, a soft ball coach for the Goshen Youth League. Member of the Goshen Village Bowling League and was the Social Secretary for the Catholic Daughters Court Genevieve Walsh #918. She also received the Helen Hayes Elks Award, Lodge 877 for outstanding progression in the Rehabilitation Program.
Domenica worked for General Telephone, LoPinto Dairy in Goshen, NY and she was the owner of Dominick's Fine Foods and the Casa Mia Restaurant in Middletown, NY.
Every year she loved sending out Christmas and Holiday greeting cards. She had a list of 180 people and they all had a handwritten messages for family and friends. Who could forget all the wonderful company she had in her home of 60 years. We will cherish all the Holidays and family traditions she handed down to the family, many that have been passed down already.
Our family wishes to express their sincere gratitude to Bishop Dominick Lagonegro, Father Anthony Giacona and Sister Ann Daly for coming into our home and visiting and giving our mother spiritual blessings. We will always have you in our hearts and prayers. We would also like to thank Dr. Jeff Stewart and the whole Oncology staff who were only a phone call away. Also thank you to the entire staff at Orange Regional Medical Center for the excellent care they provided to our mother.
Mom, God saw you getting tired and a cure was not to be; so He put His arms around you and whispered come to me; with tearful eyes we watched you, and saw you pass away; and although we loved you dearly, we could not make you stay; A golden heart stopped beating, hard working hands at rest; God broke our hearts to prove to us, He only takes the best. Love you.
Domenica's family will receive family and friends on Wednesday, December 12 from 4-8 pm at the Donovan Funeral Home, 82 South Church Street, Goshen.
A Mass of Christian Burial will be on Thursday, December 13, 2018 at 10:00 am at St. John the Evangelist RC Church, 71 Murray Avenue, Goshen.
Interment will be in St. John's Cemetery at the convenience of the family.
In lieu of flowers, memorial contributions may be made to the Orange Regional Medical Center Inpatient Rehabilitation Unit.
Arrangements under the care of the Donovan Funeral Home, Inc., Goshen. To leave a condolence visit www.donovanfunerals.com